Resolve events
RESOLVE hosts public events and expert roundtables to highlight new insights and research findings, convenes regional research agenda setting working groups and trainings, and connects local research organizations and researchers with P/CVE stakeholders.

Our signature event, the annual RESOLVE Network Global Forum at the U.S. Institute of Peace aims to elevate the rigor of research, expand the knowledge base of practice, and advance the importance of locally informed policymaking. Bringing together policymakers, academics, researchers, and programming practitioners, the Forum is a hub of expertise for professionals in preventing and countering violent extremism, and an entry point of multidisciplinary knowledge and innovation into mainstream P/CVE efforts.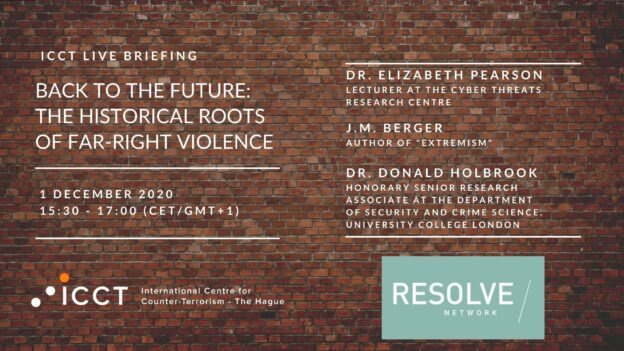 Back To The Future: The Historical Roots Of Far-Right Violence
In this online conversation, leading experts JM Berger, Donald Holbrook, and Elizabeth Pearson, seek to unpack the roots and modern manifestations of REMVE groups. Exploring how the differing ideologies have emerged and examining the rise of the far-right landscape, global trends, and future trajectories and threats. The conversation will include discussion of some of the key challenges presented by REMVE groups—including the increasingly blurred line between some groups and mainstream far-right political groups—and the implications of these challenges on efforts to address, prevent, and confront far right hate and violence.