Overview
In consultation with our partners, and a survey of over 400 experts in political violence and violent extremism, the RESOLVE Network identified the Horn of Africa as one of the Network regions of focus. Explore our research library, view our Network partners, or login to connect with our community of experts. 
Resource Library
Article
The hidden costs of power-sharing: Reproducing insurgent violence in Africa
This article analyzes some factors underlying the spread of insurgent violence in Africa. It focuses on the impact external factors have on power struggles on the continent. The first of these is the…
Partner Publication
The Islamic State in East Africa
The slogan of the Islamic State is remaining and expanding (baqiya wa tatamadad), and at the end of July 2018, the Islamic State in East Africa could claim to be doing both; not in any dramatic way,…
Publication
Can paying fines to prisoners decongest prison? Study of Fines payment Scheme at Goron-Dutse Prison
Prisons overcrowd remains one of the pressing concerns not only to the government but also to Non-Governmental Organizations (NGOs) and individuals. Prison authorities in Nigeria often call upon…
Publication
Explanations for violent crime in England and Wales: Literature Review Commissioned by the North Wales Police Department - UK
This work reviews existing literature on explanations for violent crime focusing on England and Wales. The review centres on why violent crime happens, who are the victims and offenders of violent…
Publication
Gouvernance des diversités : enjeu de prévention de conflits en Afrique / Governance of diversities : a conflict prevention tool for Africa ; book actually in French
The bad management of various diversities in African states remain the root causes of the recurrent internal conflicts that occured throughout the continent. Identity group's perception of…
Publication
Moral Education and National Integration
This paper examines the linkage between Moral Education and National Integration. The paper also supported the argument that Moral Education can be a viable vehicle for national integration. To…
Join RESOLVE to gain full access
Those who are not members may only view a snapshot of the network's resource library.
Horn of Africa Experts

Political scientist and Sahel specialist advising the American Bar Association Rule of Law Initiative on research, evaluation, and learning on rule of law approaches to CVE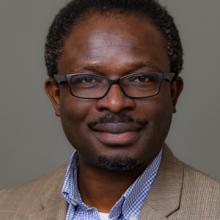 My academic research specifically explores how international information interventions are localized, encountered and contested in crises societies.