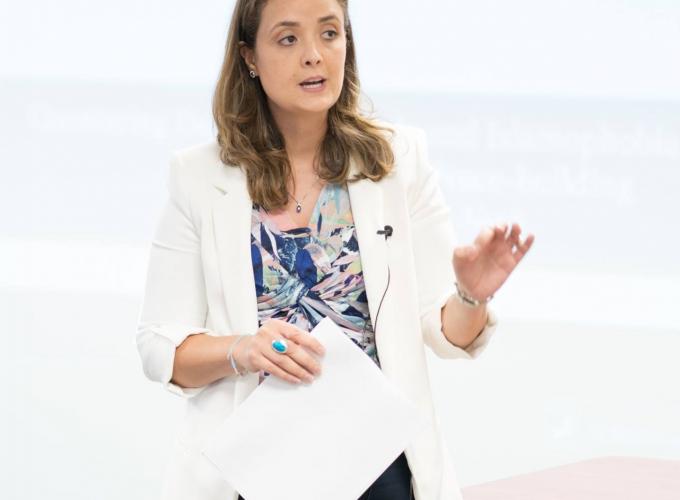 Houda Abadi
Founder and Executive Director
Transformative Peace
Atlanta, GA
Bio
Dr. Houda Abadi, PhD is the founder and executive director of Transformative Peace, a consulting firm that specializes in inclusive peace processes; women, peace and security; human rights-based approaches in preventing violent extremism; and civic engagement.
Dr. Abadi has more than 15 years of extensive experience designing and implementing peacebuilding programs in MENA region. She has successfully led international capacity building workshops; has developed programs to foster women's inclusion in peacebuilding processes; has facilitated collaboration between policymakers and grassroots leaders across political and religious divides; and has empowered community leaders to be positive agents of change. Dr. Abadi also has also designed and implemented monitoring and evaluation mechanisms, managed multi-million-dollar budgets, overseen robust teams of national and international staff, and has provided high-level policy analysis and recommendations.
Prior to establishing Transformative Peace, Dr. Abadi served as the associate director of the Conflict Resolution Program at the Carter Center from 2014-2019. While working on the Syrian and the Israeli-Palestinian conflicts, she designed and directed a locally tailored grassroots project that works with community and faith-based leaders from North Africa, Europe, and the United States to develop practical applications to prevent and address all forms of violent extremism. Dr. Abadi also served as program director in two conflict transformation organizations that worked with Jewish and Muslim youth through experiential and political education. She also worked on curriculum development, civic engagement, youth empowerment, and conflict transformation - as well as serving as an international gender research consultant.
She has received numerous awards and honors, including the Luther College Young Alumni Award, Georgia State University Transcultural Conflict and Violence Presidential Fellowship, and the Atlanta Institute for Diplomatic leadership 2018 Peace builder Award. Dr. Abadi holds a Ph.D. in Political Communication and Media Studies from Georgia State University, a graduate certificate from Duke-UNC in Middle East Studies, and an MA in International Relations and Diplomacy, with a concentration in Middle East Studies and Conflict Resolution from Seton Hall University. Dr. Abadi has published numerous scholarly articles, and has taught at Georgia State University and University of North Carolina. She speaks English, French, Arabic, and Spanish, and divides her time between Morocco and the United States.