Insight
RESOLVE 2019: The Year in Review
What We Have Accomplished
2019 was a year of novelty, innovation, and expansion for the RESOLVE Network. RESOLVE unveiled several new publications types that provide rigorous analysis and sharp insights. We also added new types of capacity building and networking activities, in the Western Balkans and in Sub-Saharan Africa. By the numbers, RESOLVE released 15 publications in 2019: 8 Edited Volume chapters, 3 Research Reports, 3 Research Briefs, and one Policy Note. 635 new followers joined us on Twitter, and we greeted close to 20,000 visitors to the brand-new RESOLVE website.
In March, we launched the Research Advisory Council with Director Dr. Alastair Reed and Co-director Kateira Aryaeinejad. The Council is an esteemed group of experts and scholars in the fields of conflict and violent extremism who help elevate RESOLVE editorial processes and lend additional rigor and connectivity across disciplines and across the globe. The Council continues to expand, and members regularly provide invaluable insights and contributions to RESOLVE publications and convenings.
Facilitate Rigorous Analysis
In the spring of 2019, RESOLVE officially launched the RESOLVE Edited Volume: Researching Violent Extremism series. The series of chapters provides examples and insights from and for researchers conducting work on preventing and countering violent extremism (P/CVE) based on the various authors' previous experiences. The edited volume also contains helpful how-to's and guides for policymakers, practitioners, and researchers interested in the research process. Published chapters from Charlie Winter, Donald Holbrook, J.M. Berger, Joe Whittaker, Kris Inman, Omi Hodwitz, and David Malet and Mark Korbitz are available online. In total, over 4,300 readers viewed our Edited Volume chapters. In the most-read chapter—highlighted in an NPR piece—Charlie Winter shed light on researcher trauma and ways of coping with the mental toll of studying extremism.

In November, RESOLVE published its first Policy Note – brought to life by Nicolas Florquin, a RESOLVE Research Advisory Council member working for the Small Arms Survey, a RESOLVE Network member organization. Policy Notes distill research insights and researcher expertise into succinct briefs that provide nuanced, actionable, and evidence-based recommendations for policymakers and practitioners. Linking P/CVE and Illicit Arms Flows in Africa explores the synergies between small arms and violent extremism. The African Union (AU) has acknowledged this link and made commitments to both small arms control and P/CVE to prevent and reduce armed conflict. Nicolas Florquin highlights the relevance of the AU's findings and recommendations for P/CVE efforts, with an emphasis on arms trafficking across the continent's land borders.
In September, RESOLVE released the first three reports from the research initiative on community-based armed groups in Sub-Saharan Africa. The reports map the existing literature and identify knowledge gaps on community-based armed groups, hybrid security governance systems, and efforts to engage, manage, or transform these groups. Dr. Lauren Van Metre elucidates CBAGs operations and use of force through a typology connecting internal group dynamics to external factors. Dr. Daniel Agbiboa explains the historic roots of CBAG positionality—given their embeddedness in communities and their popular legitimacy—to carry out governance responsibilities, establish public norms, and provide order and dispute resolution in fragile states. Dr. Moritz Schuberth outlines engagement, management, and transformation (EMT) policy approaches to the challenge of CBAGs and proposes a set of indicators that intervening actors and interested third parties could use to measure the progress of interventions in meeting their objectives.
Be on the lookout to learn more about community-based armed groups in specific countries across Sub-Saharan Africa and the complex roles of women in armed groups and violent conflict. The second phase of the research initiative will bring concept to context through field case studies in Niger and Mali and apply a gender lens to understand women, peace, and security dynamics in armed groups in West and East Africa.
RESOLVE also wrapped up the Lake Chad Basin research initiative assessing the role of the state, civil society, and other non-state actors in shaping the political divides over the role of religion in education, community, and state responses to extremism and extremist narratives. Publications include three research briefs on the role of religion on university campuses and intersections with violence and violent extremism in Nigeria, Cameroon, and Chad and a research report by Research Advisory Council member Dr. Alexander Thurston testing prevailing assumptions about the relationship between education, religion, and violent extremism.
Connect Subject-Matter & Geographic Expertise
RESOLVE team members expanded capacity building and networking the network across the globe, including hosting side events and facilitating breakout sessions in Slovakia, Montenegro, Jordan, Australia, Senegal, Switzerland, and Bulgaria.
As part of the Western Balkans research initiative, RESOLVE hosted three research roundtables highlighting new research findings and analysis from regionally-based researchers and co-hosted a research priorities working group in Podgorica, Montenegro with Forum MNE and the Kosovar Center for Security Studies (KCSS). This regional charting research priorities working group explored future trends for the study of violent extremism in the Western Balkans by facilitating the transfer of knowledge and expertise among regional experts and stakeholders. Participants repeatedly noted emerging trends of ethically based, right-wing political extremism in the region, in addition to the challenge of individuals travelling to and returning from Iraq and Syria.
Elevate Policy & Practice
RESOLVE piloted a first-of-its kind research training and toolkit in Pristina, Kosovo, co-hosted by KCSS. Making Sense of Violent Extremism: Training and Toolkit for Research covered concepts and definitions around violent extremism, methodologies, data collection and analysis, ethics, safety, and trauma, and writing for policy and practice. Over four days of interactive sessions, regional experts, researchers, and practitioners from the Western Balkans shared their experiences and learned new practices in researching violent extremism. Participants valued a broad exchange of context-specific operational challenges in their countries, discussing ways to address trauma of research subjects and researchers, and refreshing safety, security, and ethical checks—for the research subject, the data, and the researcher alike—when researching sensitive issues around violent extremism.
Coordinate & Share Knowledge
The community-based armed groups research initiative convened D.C.-based experts and stakeholders multiple times last year. The RESOLVE-USIP-USAID expert roundtables identified knowledge gaps, covered the strategic implications of research findings for political practitioners, law enforcement, and development agencies, demystified the complex roles of women and gender in conflict and violent extremism, and discussed recommendations for government priorities and international partnerships.
As in previous years, the season culminated in the RESOLVE Global Forum in September. RESOLVE's signature event convened top scholars, practitioners, and policymakers to reflect on past efforts, explore prevailing myths, and discuss strategies to recalibrate the way forward in addressing violent extremism. Videos of keynote speaker Assistant Secretary of State Denise Natali, a fireside chat with J.M. Berger and Michael Singh, and a series of panel discussions and TED Talk-style presentations with leading experts and Research Advisory Council members are available at the U.S. Institute of Peace website and on YouTube.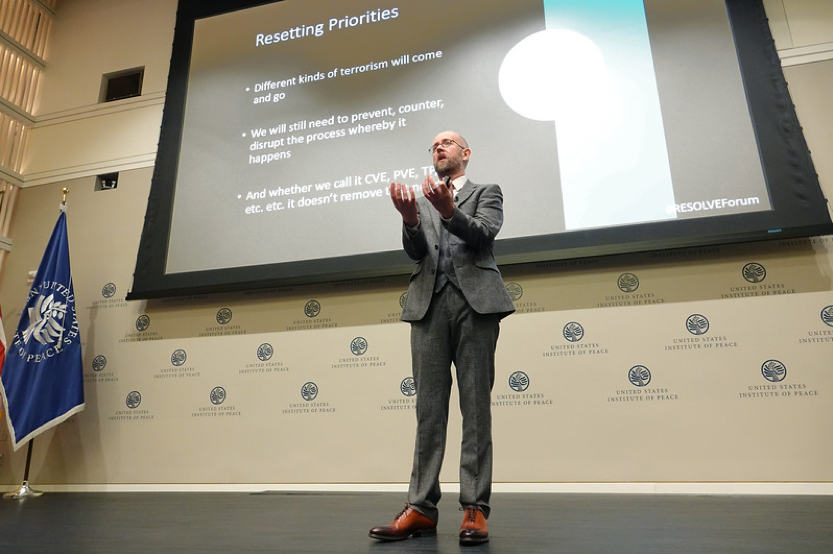 The New Decade: 2020
2020 is off to a bright start. RESOLVE's regionally focused work will illuminate local security dynamics in the Sahel and East Africa for the women, peace, and security component of the community-based armed groups project. In the Western Balkans, RESOLVE will implement further research trainings and capacity building workshops and expand its regional partnerships through new local member organizations.
A new regional focal point will be South East Asia, where RESOLVE will pilot research literacy capacity building workshops and trainings for local policymakers and practitioners to bridge the gap between the research and decision-making processes in P/CVE policy and practice.
RESOLVE looks forward to publishing additional chapters and, ultimately, the completed Edited Volume on Researching Violent Extremism, which will supplement in-person trainings and also contain regional annexes focusing on researcher experiences in a specific region—this year on the Western Balkans and South East Asia. We are also excited to accelerate RESOLVE's Policy Note series with a new mini-series on violent extremist organizations as well as planned notes accentuating the import of ethics, security, and gender sensitivity in violent extremism research in all our strategic activities.
In 2020, the RESOLVE Network will continue to work to better research, inform practice, and improve policy on violent extremism. We are excited to work together with our Member Organizations, Research Advisory Council, and Advisory Board to meet this mission and look forward to adding new members to the Network in 2020. RESOLVE continues to partner with the Bureau for Conflict and Stabilization Operations of the U.S. Department of State and the Bureau for Africa at the U.S. Agency for International Development – we remain thankful for their generous support and collaboration.
RESOLVE also continues to be housed by and benefit from the support and guidance of the U.S. Institute of Peace, building upon the Institute's decades-long legacy of deep engagement in conflict-affected communities.
There is much to be proud of and even more to look forward to. Sign up to our newsletter and connect via Twitter @resolvenet to stay up to date with Network developments and engagement opportunities!
For any further media inquiries please contact resolve@resolvenet.org