COMPENDIUM: Community-based Armed Groups in Sub-Saharan Africa: RESOLVE Network Research 2018-2022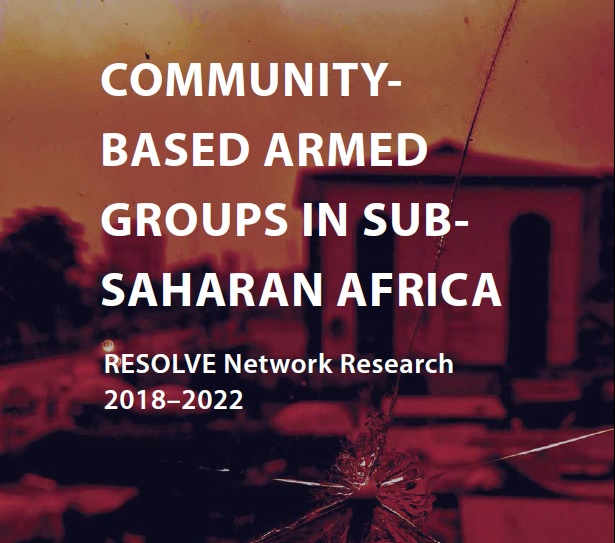 Abstract
This compendium brings together the collected work of RESOLVE's 2018–2022 Community-Based Armed Groups Research Initiative. Launched in partnership with the U.S. Agency for International Development Africa Bureau, this research initiative sought to fill a gap in the literature on community-based armed groups in sub-Saharan Africa—often key actors in conflict-affected and fragile contexts, but highly localized and not well-understood. The papers in this volume are presented in a series of phases corresponding to the development of the research. Phase One involved mapping the existing literature to establish a common definition and typology of these groups, as well as options for engaging with them. Phase Two deepened these understandings through a series of case studies in West Africa. Phase Three added a sub-focus to this research initiative by mapping the available literature on women in community-based armed groups, and Phase Four built upon that knowledge with a series of case studies in East and West Africa. Finally, Phase Five featured a set of case studies in Nigeria and Somalia on disengagement from violent extremist organizations, drawing on the personal experiences of former members to map their journeys into and out of these groups, providing a model for understanding disengagement and reintegration more broadly. Taken together, these publications lay the foundation for improved understanding of and responses to community-based armed groups in sub-Saharan Africa, and provide clear avenues for future research.
The compendium is divided into six main parts. Read the full version at the "View Document" link below or browse individual parts at the following links:
Suggested citation: RESOLVE Network. Compendium: Community-based Armed Groups in Sub-Saharan Africa: RESOLVE Network Research 2018-2022. Washington, D.C.: RESOLVE Network, 2023. https://doi.org/10.37805/cbags2023.1.